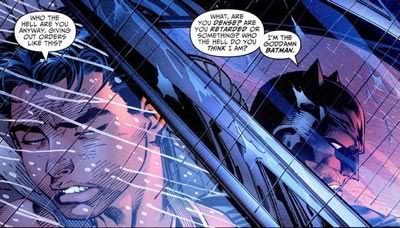 Because even heroes can be dicks sometimes.
ROBIN
: Who the hell are you anyway, giving out orders like this?
BATMAN
: What are you,
dense
? Are you
retarded
or something? Who the hell do you
think
I am? I'm the goddamn
Batman
.
Ladies and gentlemen, an actual excerpt from
All-Star Batman and Robin #2
, by Frank Miller and Jim Lee, both men who have done much better work elsewhere. This classic exchange of dialogue is old news to comics fans, but I just felt like posting it now. Enjoy!