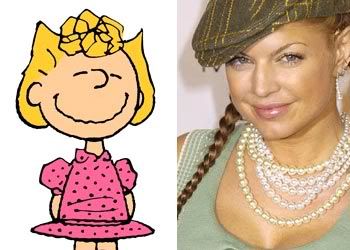 Despite the brain-melting badness that is the Black Eyed Peas song
My Humps
, Fergie will always be aces in my book. The reason why is in an interview from the August 2005 issue of
Blender
:
BLENDER: WHAT'S THE COOLEST THING YOU'VE EVER DONE?

FERGIE: Being the voice of Sally for a Peanuts cartoon. I actually have a thing that Charles Schulz wrote me. He drew Snoopy and it says, "To our best Sally ever -- Schulz." That's cool! Schulz called me the best Sally ever.
It's not just that she was the voice of Sally Brown once upon a time, it's that despite becoming an international pop star with BEP, she still counts
voicing Sally
as "the coolest thing she's ever done."
That is why she is awesome.
Incidentally, one of the Peanuts specials Fergie did -- "
It's Flashbeagle, Charlie Brown
" -- is one of my all-time favorites, despite the fact that it's horribly, horribly dated now, as you can probably guess from the title (then again, the 80s
are
back...). Who could forget such timeless tunes as "The Pig-Pen Hoe-Down," "I'm In Shape" and "Lucy Says"?
Listen to Lucy, listen to Lucy!
PS. The new installment of my column, "The King of Nothing to Do," should be in the i section of today's Manila Bulletin. It's a Christmas story for children! Well, sort of.