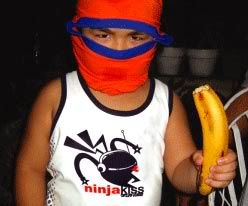 Had a great time at
Ninja Kiss 10: Ninja Ka Ng Ina Mo!
, which, unlike most ninjas, struck in loud and nonlethal style last night at
SaGuijo
.
First up was mainstay band Bagetsafonik, who mark their third year together as a band today (congratulations Ace Doi Marcus etcetera!). As usual, they rocked the place with their electro-dream-hip-pop-rock-tronic music; old favorites like "Halogen" and "Song for the Sunlight (Back in the Day)" were highlights, and somewhat newer, almost alarmingly radio-friendly tunes were featured in their set too.
Reggae band Hemp Republic provided the production night's fantastic finale: mixing popular hits like "Pass the Dutchie" and No Doubt's "Underneath it All" (not to mention the obligatory Marley stuff, and a perhaps ill-advised cover of Sting's "Love is the Seventh Wave") with their own excellent material, they got everyone up and dancing by the close of their set, at around 3 AM.
In between, we had Switch (a decent industrial rock act that reminded some of my companions of Nine Inch Nails and "a more electronic Korn"), and Sino Sikat. I expected to appreciate the sets by Bagetsafonik and Hemp Republic -- both bands whose performances I've enjoyed immensely before -- but I was surprised, and blown away, by Sino Sikat. Despite their throwaway name, they're amazing to watch, and not just because of the good-looking members. Their brand of Pinoy soul -- spiced with dashes of funk, pop, jazz, and a strong sense of fun -- is sensual, skilled, beguiling, and will have you moving like a mofo. I was wondering why vocalist Kat looked familiar: turns out it's because of the striking photograph of her taken by Juan Caguicla, which takes up a whole page in the May 2005 issue of PULP. Rereading that brief feature on them, I'm surprised by how bland it is, how little it makes me want to go out and watch the band. Luckily, I know better now. (And lest people think I'm always bashing the magazine I used to work for, I will say that their recent Bamboo-covered issue was definitely a good one).
Aside from the outstanding music, it was great to see old friends. My cousin Carlos reminded me once again that I have yet to watch his new band, the Milagros Dancehall Collective. Joey D. gave me a mini-review of the movie he had just seen,
Land of the Dead
(so bad it's good, in a nutshell). Gracie enumerated the people from her batch in Ateneo who've ended up in the band scene. Margie kissed a complete stranger to bag her
second
Ninja Kiss T-shirt. And so on. Hitched a ride out with M., and had a Jollibee longganisa meal at around half past 3 AM -- a good end to a good night's gig-going.