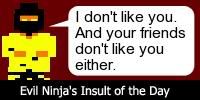 I love
Master Ninja
. "Questionable Taste and No Regard for the Human Condition... Please do not betray us, or we will kill you while you sleep."
Here, from an article commenting on
The Top Ten Most Harmful Books
:
Chuck: Lenin only gets an honorable mention? They've got Mao and Marx up there -- why did Lenin get thrown to the bottom of the heap?

Fred: Kinsey beat him to the punch. He'd be up there if only Lenin had added "...also, sex is awesome. Do more sex."

Chuck: "Make the man sex and the group sex and all the sex you want because it's all good." That'd be a great addition to What Is To Be Done.

Fred: "Communism? More like Cummunism!" And then he high-fives Marx's corpse. And fucks it.