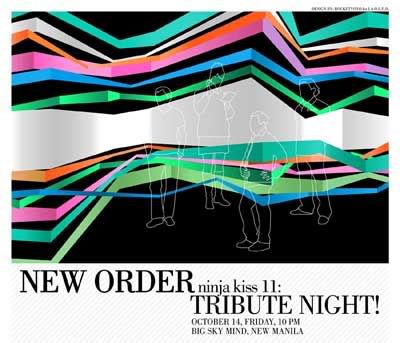 So I was with some friends a week and a half ago and
Karlo
asked me:
what is your favorite New Order song?
(Apparently Electronica Manila, of which Karlo is a member, is thinking of doing a New Order night). I experienced a moment of hesitation -- brought on by the idiotic music-geeky notion that I should name something earlier and more obscure -- and then told him what my tragically obvious first choice was anyway: "Regret," from
Republic
.
Waya
, sitting next to him, immediately asked me to sing it, which I refused to do: I once actually recorded myself warbling "Regret," when I was toying with a new tape recorder in college, and listening to the playback was an act of sheer masochism, the aural equivalent of deliberately stapling one's fingers (which, funnily enough, I have also done).
Anyway, through cosmic coincidence, it seems that
Ninja Kiss 11
is going to be a New Order covers night too: according to Bernie, it's "going to be our biggest kiss and kick fest evah! see you next friday, october 14, at big sky mind, new manila as we pay tribute to new wave pioneers, new order with a banging six-band line-up starring:
orange and lemons, morse, bagetsafonik, sleepyheads, isha,
and
watari's machine
-- it's a night of electronica, britpop and new wave, kaya punta na! gig starts early at 10pm."
Ace of Bagetsafonik has told me that they're doing "Regret," so that's something to look forward to. I wonder if anyone will perform my other favorites, like "Love Vigilantes," or "Every Little Counts," a cute and twisted little song from
Brotherhood
(the same album the over-covered "Bizarre Love Triangle" comes from), or "Run Wild" from the fairly recent
Get Ready
. Maybe someone will do the happy-catchy "Krafty" and evoke the guilty giddy voyeuristic adolescent thrill of the video. And I wonder how great -- or awful -- a full-on rock version of "Shellshock" might sound! (Flash back to high school: I owned a
Substance
T-shirt I bought off one of those clothing stalls near the pier, and I wore it regularly until it was basically floor-rag material).
In any case, it looks like it's going to be fun. So: what's
your
favorite New Order song? :)