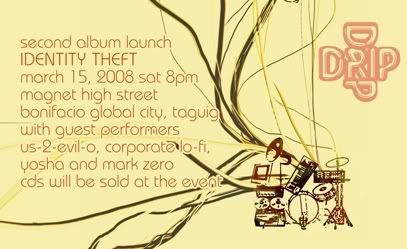 Anyone who reads my blog more or less regularly probably knows how big a fan I am of the fantastic electronic band Drip. So as you can imagine, I'm really psyched about this Saturday, when they're set to launch their second album,
Identity Theft
. Have been listening to an advanced reviewer's copy for a few days now -- at home, on the MRT, even on a pedicab trundling down Agham Road -- and it's great. Those who liked the first one will LOVE this one, and it's entirely possible that even if the first one didn't grab you, this one will. It's better. As Erwin Romulo put it in a well-written (as always) review for the Star, it builds on the first album's achievements to "reach vertiginous heights."
Cool Drip trailer
here
and Erwin's review
here
!
Last week's gigs were pretty excellent. Enjoyed the Stripped gig at Route 196 -- especially since Kidlat, Fran, JB and Steph were able to make it. Interesting and entertaining to watch all-covers acoustic sets by the Dancel brothers Ebe and Vin, and Ace of Bagetsafonik (we joked that Ace and JB should have had a face-off with the Dancels: musically-inclined brother tag teams!). And Ene's set was all hair-metal songs, which of course was a lot of fun. I scared myself when I realized that I still know all the words to "I Remember You" by Skid Row.
The Narda reunion gig was no less fun, of course. Yvette and I finally got to watch Quark's new band, Us-2 Evil-0, and we are instant fans. :) We just missed Ang Bandang Shirley, but enjoyed the sets by Pedicab and Taken By Cars a great deal. And of course, it was wonderful to watch Katwo and Co. take the stage again.