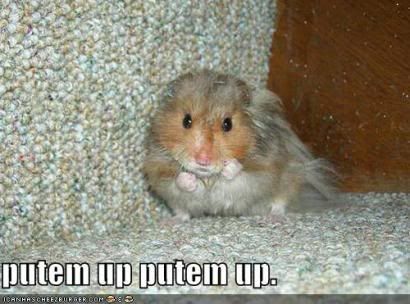 I love
I Can Has Cheezburger
. And no, the boxing hamster has nothing to do with this blog entry. It just made me LOL. :)
Anyway! Will be in Baguio City from April 6 to 13, for the
UP Writers' Workshop
. I never thought I would attend another national writing workshop -- not because I've ever had a horrible experience with one, quite the contrary -- but because I always saw them as most beneficial for writers just starting out. That was certainly the case for me, with my first one: I was the youngest writing fellow there, at 18 (a fact that I'm glad went unknown until the directories were issued on the last day). However, apparently
since 2005,
the thrust of the UP workshop has changed, as "there is now a proliferation of creative writing workshops on both the national and local levels" and "beginning writers now have many other options," so "the UP ICW has decided to re-conceptualize its annual workshop to address the changing needs of writers."
So I was pretty happy to be invited to this year's session, especially when I found out
who else was going
: Tara, Mookie, Ian, and even my old grade school classmate, Vince! Am looking forwward to meeting and hanging out with the others, as well. I still have fond memories of that first workshop -- it was held in Baguio, too -- and while we won't have George R. around this time to run naked and drunk through Burnham Park, stricken by love at first sight, am sure this one will be memorable as well.
And now we come to the sing-along portion of our presentation
. Is anyone who's reading this familiar with the Baguio music scene? Would love to check out some bars and bands while we're up there, and possibly write about them for my weekly music column for the Bulletin. Please post suggestions here, or email me at thekingofnothingtodo at yahoo dot com. Thanks!