Everybody who can: please go to the Mall of Asia TONIGHT, JUNE 22, for the
MTV VJ Hunt
Finals! It should start around 7:30 to 8 PM, at the Music Hall, and it's free and open to all. It's going to be a fun show, and not just because I wrote it. There's going to be performances by the ALLSTARS, SINO SIKAT, and KITCHIE NADAL, and a coupla others (okay, okay: DANITA and MIGUEL ESCUETA). Not to mention twelve VJ Hunt finalists trying to win your affections.
Here's this year's batch of female MTV VJ Hunt-ees. They are much much better looking in person, I swear. Kat Alano (fourth from left), in particular, must have pissed off the stylist somehow. She's actually pretty hot in real life, and doesn't really look like an aging Tita who's still trying to look 'hip'. However, my vote goes to Andi (fifth from left), because she's cute. I mean, because she has radio experience, knows what she's doing but isn't jaded by the industry yet, and is a fresh, fun presence. Also, cute.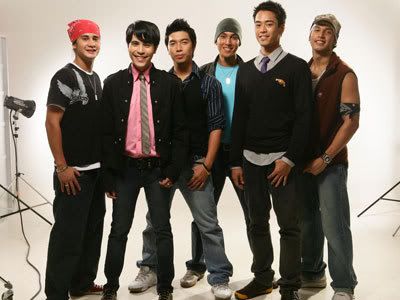 And here are the boys, for those of you who like looking at boys. Sib (second from left) is the only one who doesn't look like he used to beat up nerds in high school. That alone would get him my vote.
Also, Sarah Meier is hosting. She is always a sheer joy -- not just to look at -- but to work with. (I am still amazed at her ability to intelligently ad lib, AND memorize scripts in an instant.) And the new MTV VJs -- Victor Basa, Anne Curtis, and Maggie Wilson -- will be hosting too. Plenty eye candy for y'all. Those of you who are so inclined can start debates about whose legs are more stunning, Sarah's or Maggie's (hint: Sarah's).
So please go. And afterwards, go to the second leg of the
BURN magazine bar tour
, at SaGuijo! :) Playing tonight: Markus Highway (yes, that's ex-Eraserhead Marcus Adoro's band -- read the excellent feature by Aldus Santos
here
), Bagetsafonik, Sino Sikat (again!), hip-hop up-and-comer Nimbus 9, Paramita, and Indio I. Yaaayy!
UPDATE 06/24/2007
: Event turned out great! My two favorites (Sib and Andi) won, and they decided to hire a third new VJ too (Kat). Tado's interview portion with the finalists killed me. I think he almost made Brent Javier cry. Fun to see band people like "Boy Elroy" Conrad and "Chicosci" Miggy in the crowd, no doubt there to support Sib. The special will air on MTV Philippines on Wednesday, July 18 at 9PM, with replays on July 20 at 3PM, July 22 at 8PM, etc. MTV Philippines is Channel 57 on the company you love to hate, Sky Cable.