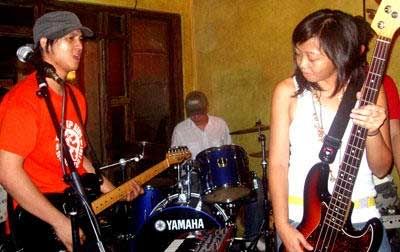 Photo taken from The Bitter Pill's
yahoogroup
.
Yvette and I wrote about
The Bitter Pill
-- the indie super-band with Mong Alcaraz from Chicosci, Mikey Amistoso from Ciudad, Isa Garcia from Cousin Ed, Diego Castillo from Sandwich, and (at the time) Pao Santiago from Join the Club -- for the first issue of BURN. Here's the intro paragraph:
"More! More! More!" everyone in the bar was chanting, heedless of chairs and composure, all sweaty from dancing and yelling and crowding into each other. We had just been blown away by a handful of raucous, joyous, punk-energized, pop-catchy songs, delivered with astonishing attitude, liveliness, and an almost-psychic rapport by the five-piece band known as The Bitter Pill. Formed about half a year ago, they've been converting indifferent crowds into on-their-feet fans at every performance, and we were no exception. Alas, there was no 'more' to be had: "Sorry -- that's all the songs we know!" apologized Diego Castillo, before staggering off the stage.
And now, you can feast your ears on one of The Bitter Pill's songs, specifically "You and Me and the Devil Makes Three" -- um, that is, if you join their
yahoogroup
and go to the "Files" section. (I don't think you can right-click and download it, but you can listen to it via Quicktime.) Though it's deceptively simple and one of their slower songs, I can attest to its hypnotic, near-delirious power when they play it live, and this cleaner studio version has its own charms.
It begins with a simple piano and electric guitar back-and-forth, then builds and repeats and builds and repeats until somewhere near the end when the guitars get all urgent and near-frenzied you can imagine the audience howling and breaking all the furniture in the bar, and then it quiets down and fades out. Very nice. I can't wait for a full album proper from these guys.