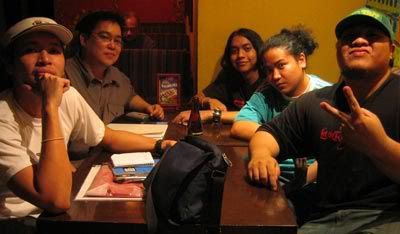 Me and The Happy Meals, during the interview I conducted for
BURN
. That's Jorel on the right.
Here's a fun little song that combines a laid-back, at-the-beach feel with earnest, heartfelt sentiments: it's currently untitled, but its lyrics will make you go "awww," hence the placeholder name. It's by self-described "all-around music guy" Jorel Corpus, who you probably know from one of his many bands: Kjwan, The Happy Meals and Brigada. Go
here
to download it!
On an earlier post, Jorel has a disclaimer regarding the raw nature of the demos he puts up on his Multiply page ("I recorded them using my very basic set up. Which is ... MY PC, hahaha"), but the strength of this song really comes across. Heck, it's been days -- no, weeks! -- since I first listened to it, and I can still sing the immensely catchy chorus. Would love to hear a fully fleshed-out final version of this song someday. Maybe with a horn section and backing vocals... Okay, maybe not. Still, whether stripped-down or lavishly produced, I'm sure its basic charm will remain intact. Good stuff.