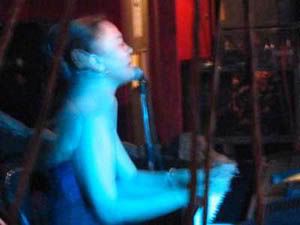 So I missed NINJA KISS 6, much to my regret. Blame a sleepless Friday night, and a hectic day shopping for my pamangkin Kaya's birthday, as well as attending, albeit briefly, said pamangkin's party. She is five, and will conquer the world (or at least the Philippines) in a decade or two, so it's best to be on her good side.
Anyway, check it out:
ISHA's first solo gig at 70s Bistro
is
tonight
, at 9:30 PM! Isha is, of course, the singing/songwriting, piano-playing, insanely talented (and, in many ways, just outright insane) former PULP Managing Editor, Peach Abubakar-Quebral. As she says:
"i'll be playing with the legendary simon tan on bass and the great jayvee torres on drums (the best ititch!). if you're into jazzed-up new wave, nina simone, bananarama, tori amos, joni mitchell and senti torch music you might enjoy the sets. plus i'll be debuting a few of my latest originals!"
Peach's special guest for the evening is MISHKA ADAMS -- caught the last part of Mishka's 2nd set at Mag:net Katipunan a couple of weekends ago, and despite talkative bastards, too many smokers, and too many people singing along (hey, wannabe vocalists -- we didn't squeeze our way in here to listen to
you
perform), it was well worth seeing.
70s Bistro is located along Anonas Road, Quezon City (tel # 4343597) -- just a trike ride away from where I live, yay.
Finally, listen to
Wolfmann's remix
of NIN's "Only." It's pretty cool, and in the running for this contest on myspace, so rate it and make W. happy.