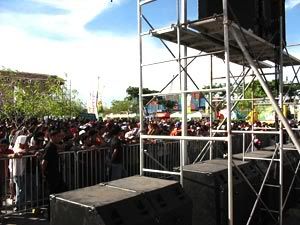 The imaginary crowd gathers for the Imaginary Indie Awards! (Actually, a photo from the MTV Hits Cebu event)
First of all, welcome back, Kristine. :) Yay!
Last Saturday I was at La Salle, having been suckered -- I mean, persuaded -- by my sister to deliver a lecture on writing scripts for events and AVPs, to an org called the Green Media Group. They were a smart, fun bunch, and I'm not just saying that because they're young and net-savvy and will probably stumble across this blog someday while running searches on their own org name.
I was reluctant at first to lecture on scriptwriting because I always feel that the only subject I can talk about with any semblance of authority is fiction, but then I realized that in the past year alone I've written full scripts for at least three major live events (MTV Hits Cebu, Pilipinas '04, and the VJ Hunt), lots of bar tour and campus tour thingies, countless plugs and numerous AVPs, so what the hell. I like to think that I'm not the kind of teacher that can actually cause an audience to become
more
ignorant, as their brain cells commit mass suicide to escape the boredom -- so at the very least, I wasn't going to be doing any harm.
I kicked off with some footage from this year's MTV VJ Hunt, that being the only event I've written of which I actually have footage. While that was playing, I wrote down an outline of the usual stages an event script goes through: from the conceptualization to the working out of such details as hosts, performers, sponsors and presentors, to the writing of the sequence, and of course the researching and writing of the actual script. I also warned them about the many many things that can and do go wrong on the night of the actual event, such as absent performers or presentors, tantrums and tirades and last-minute changes backstage, and, um, wardrobe malfunctions. One event I wrote required a quick reassignment of lines because one of our lovely hosts couldn't go onstage for fear of suddenly flashing an audience of thousands.
Since the lecture was almost a whole-day affair, I had to do something interesting to fill up the hours, and so I proposed that they conceptualize and write an event of their very own -- I said, let's do an awards show, since it incorporates a lot of elements: performances, presentations, host banter, etcetera. So, I asked them, what are you guys interested in?
Music
, was the answer. I was pleasantly surprised by the Green Media Group's passion for local music acts, and their avowed support for independent efforts: and thus the imaginary
GMG Indie Music Awards
show was born.
We hammered out five categories, with five nominees each (we had to disqualify certain favorite acts like Pedicab and Sugarfree, as they couldn't be considered 'independent'), and came up with presentors for each category, as well as a set of four hosts, from their org's own 'hosting pool.' I separated the class into five groups of three (I had them count off by threes, until a sharp-witted student pointed out that they should be counting off by fives instead, to make five groups -- and me a former Math major!), assigned each group to write two segments, and at the end of it all, we had a run-through of the whole thing, with the hosts delivering the spiels and an announcer announcing the winners. The hosts were game and talented, and some of the spiels were quite well-written -- in short, it was a fun way to end the session. As I recall, the winners were:
Best Live Act : Brass Munkeys
Best Video: The Late Isabel
Best Student Act: The Bloomfields
Best Album: Imago
Best Act: Urbandub
Performances for the imaginary show included numbers by Narda, Bubble Band, and the Brass Munkeys. The SuperFoodBand -- composed of members of Sandwich, Mayonnaise, Cheese, and the Happy Meals -- started things off, and a world/hip-hop hybrid of SVC and Pinikpikan provided the finale. It was really great to see the students all excited about homegrown music: at one point, I overheard one of them reminding her enthusiastically-arguing groupmates that "Guys, it's not a
real
event." Be that as it may, it sounded like a show I would have very much liked to see.