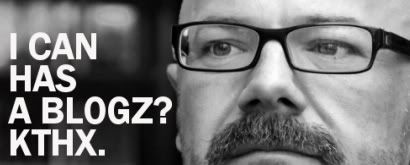 "You end up writing about yourself, since you are a relatively fixed point in this constant interaction with the ideas and facts of the exterior world. And in this sense, the historic form closest to blogs is the diary. But with this difference: a diary is almost always a private matter. Its raw honesty, its dedication to marking life as it happens and remembering life as it was, makes it a terrestrial log. A few diaries are meant to be read by others, of course, just as correspondence could be -- but usually posthumously, or as a way to compile facts for a more considered autobiographical rendering. But a blog, unlike a diary, is instantly public. It transforms this most personal and retrospective of forms into a painfully public and immediate one. It combines the confessional genre with the log form and exposes the author in a manner no author has ever been exposed before."
...
"Even the most careful and self-aware blogger will reveal more about himself than he wants to in a few unguarded sentences and publish them before he has the sense to hit Delete. The wise panic that can paralyze a writer -- the fear that he will be exposed, undone, humiliated -- is not available to a blogger. You can't have blogger's block. You have to express yourself now, while your emotions roil, while your temper flares, while your humor lasts. You can try to hide yourself from real scrutiny, and the exposure it demands, but it's hard. And that's what makes blogging as a form stand out: it is rich in personality. The faux intimacy of the Web experience, the closeness of the e-mail and the instant message, seeps through. You feel as if you know bloggers as they go through their lives, experience the same things you are experiencing, and share the moment. When readers of my blog bump into me in person, they invariably address me as Andrew. Print readers don't do that. It's Mr. Sullivan to them."
...
"Reason is not the only fuel in the tank. In a world where no distinction is made between good traffic and bad traffic, and where emotion often rules, some will always raise their voice to dominate the conversation; others will pander shamelessly to their readers' prejudices; others will start online brawls for the fun of it. Sensationalism, dirt, and the ease of formulaic talking points always beckon."
Read the whole thing
here
.