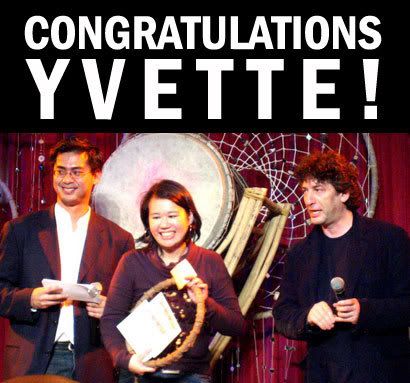 L to R: Jaime Daez of Fully Booked ("Hellooo, ladies"), the lovely and overjoyed Yvette, and some English bloke
Great big CONGRATULATIONS to Yvette for her Philippine Graphic/Fiction Awards win! *mwah mwah* :D Sponsored by Neil Gaiman and Fully Booked, this is the only competition in the country that focuses on
speculative fiction
, and due to a number of reasons -- Gaiman's involvement, the amount of prize money -- it's become perhaps the most anticipated and strived-for writing award in the land. Gaiman himself established it when he visited the country a couple of years ago: he noted that the Philippines has "a very strong tradition of realism" in its fiction, and he wanted to encourage "Philippine unrealism."
Yvette won 2nd place in the Prose category (there's a Comics category as well) for her wonderful short story, "The Bridge." Set during the time of a certain dictatorship, it's about a little girl in a small town with psychic abilities who encounters the First Lady. During the awarding ceremony, Neil praised it effusively, calling it "very, very creepy and really nicely done."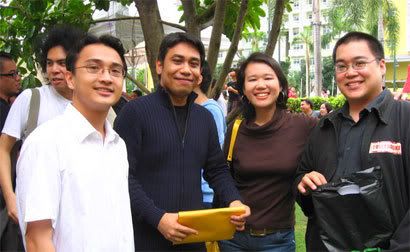 L to R: Half of Lyle Sacris' head, wild-maned Ramon, boyishly beaming Elbert, the amazing Arnold, gorgeous genius Yvette, and myself.
The awarding was held last Sunday, November 25, just outside the giant Fully Booked branch at The Fort. It was great to see so many familiar faces and to catch up with everyone. Arnold and Cynthia, Erwin, Ramon, Quark, Charles, Elbert, Ian, everyone. Dear friends Waya and Lala -- last year's grand prize winners for the Comics category, for "The Mad, Sad, Incredible but True Adventures of Hika Girl" -- were there too, with family and support crew (Fran, Elaine, Krissy etc.). Waya and I had gone on a day trip to Subic just the Thursday before, for Neil Gaiman's lecture on the imagination and its importance. (We got to talk to him briefly afterwards; will probably write about that too, eventually.)
After the event, the winners and some stray significant others like myself had dinner with all the judges and Mr. Gaiman. A very memorable end to a very memorable day.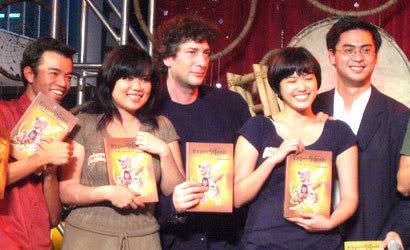 Waya to the right of him, Lala to the left of him: Neil Gaiman flanked by the insanely talented Gallardo sisters.
These photos were taken from Cynthia's Multiply page. Thanks to the ever-
masipag
Charles for all the
transcripts
and updates. Neil Gaiman blogged about his visit
here.