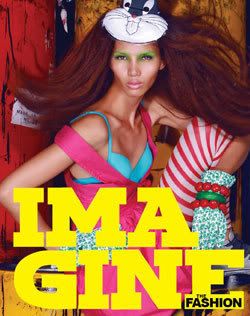 You may have seen this new magazine on the stands: it's massive, colorful and attention-grabbing, and it's called
Imagine
. Congratulations to Yonina Chan and company on the first issue! :)
Imagine is very visually-oriented, so in its pages you'll find spread after spread of fashion concepts and other forms of eye candy. There's lots of good stuff to read as well, of course. I'm one of the Contributing Editors, and for this first issue I wrote two short short stories ("Emily Around the World" and "Zo Invents"), as well as a short feature on award-winning comics creator Arnold Arre and his upcoming projects. An excerpt:
"I'm in the process of developing two stories," Arnold tells us. The first is Martial Law Babies, "a coming-of-age story about a group of 30-somethings. We follow the lives of the characters, from their childhood memories to a present-day setting. It's a very personal story, and it came to me during one of those conversations with college friends over coffee. I also wanted to tackle some issues like where have our peers gone, what did they become? Why are we losing more and more talented people to first world countries? What role do we play in society? And aren't the younger generations getting better breaks in terms of work since they're adept in technology and from our perspective, more pampered? So I guess in a way another take on the title is that of us being trapped, we're under Martial Law so to speak. It's nearing completion, so hopefully we'll get to see it in printed form sometime soon."

The second project in the works is "another fantasy story, a different take on Filipino myths. The story is geared towards a younger audience, which I find to be a challenge since it's very new to me. In a nutshell, there is a worldwide organizing body of magic and myth holding friendly competitions for all creatures, gods, folklore beings and characters. Imagine an Olympics for the world of magic. Our delegates are a hodgepodge of troubled characters trying to band together as one team-a problematic tikbalang, a rebellious kapre, and several others being led by the team captain, a mambabarang who tends to be misguided in her decision making."
Both projects are definitely something to look forward to -- not just for fans of local comics, but for people who appreciate stories in general.