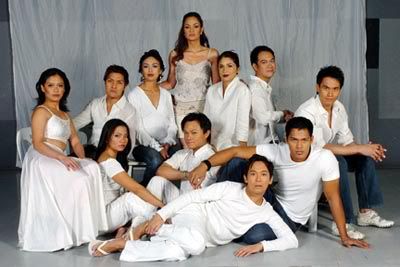 The cast and collaborators of
Zsazsa Zaturnnah Ze Muzikal
: That's Eula Valdes (who plays ZZZ) standing in the center; sitting in the center is Ricci Chan (Didi) and lying on his side in the center is Tuxqs Rutaquio (Ada). ZZZ is flanked by Agot Isidro (Queen Femina Suarestellar Baroux) and Kalila Aguilos (Femina understudy). Click on the pic to enlarge.
Yvette and I just watched the dress tech rehearsal of
Zsa Zsa Zaturnnah: Ze Muzikal
last night, and we had a blast. It's based of course on
Carlo Vergara's excellent comic book
, which was so good that I must admit I had misgivings about it being adapted for any other medium. Fans of the original story can breathe a sigh of relief -- for the most part, they did it right. You'll laugh! You'll scream! You may even cry. But immediately afterwards, you'll be laughing again.
As the press release says, it's "a fresh take on the usual superhero story" -- "but this time, the superhero(ine) is a simple provincial gay beautician named Ada who transforms into voluptuous Zsazsa Zaturnnah possessing uncanny strength after swallowing a huge stone. Yes, it's Darna in drag."
Tuxqs Rutaquio as Ada is great; just the right amounts of sarcasm, vulnerability and strength. Ricci Chan
owns
the part of Didi, Ada's flamboyant assistant and best friend; it's hard to imagine anyone else playing it so well -- s/he steals almost every scene s/he's in, and gets a lot of laughs through lines that are, or at least appear to be, ad-libbed. Eula Valdes as Zsazsa really works -- she does the bitchy one-liners and slapstick stuff and action scenes with little heed for her personal safety or dignity (which, believe me, is a
good
thing, in this case).
Arnold Reyes is fine as neighborhood hunk Dodong, though he seems to have lost a few IQ points in the transition from page to stage. We agreed that Agot Isidro as main kontrabida Queen Femina Suarestellar Baroux, while good, should have been a bit more over-the-top, should have had more
fun
with her role -- it would be interesting to see what understudy Kalila Aguilos does with it. The supporting cast really earns its keep, by the way -- as townspeople, zombies, and backup singers, they attack each and every one of their minor roles with energetic improvisation (as Yvette and I learned when one of them addressed us directly during a wonderfully chaotic street-vendor scene).
The official run begins today, February 10, and there are shows throughout February up until March 5. If you liked the comics, or if you just want to watch a fun (
and
funny) original musical, you'll enjoy Zsazsa Zaturnnah: Ze Muzikal! (Call the Tanghalang Pilipino office at 832-3661 or 832-1125 locals 1620/1621 or email ccptanghalan at yahoo.com for tickets, reservations and inquiries).
PS.
Just found out -- according to
Carlo's blog
, "almost half of the shows have been fully booked even before the run has started". Hurry! :)