1.
One Korean movie:
I watched
...ing
last weekend. I enjoyed it a great deal, or at least the first three-fourths or so of it -- the last part dragged somewhat, and got a bit Hollywooden (lovely dream sequence, though -- you'll know what I mean if you ever watch it). As is the case with most romantic movies, some of the best parts were the meet-cute, getting-to-know-you sequences. From the review on
Koreanfilm.org
:
"The unusual title of this introspective and well-executed film refers to the present continuous tense in English. For the film's main character Min-ah -- a high school girl who has spent much of her youth in the hospital -- the present may hold a deeper meaning than for most of us.
"...One day, a young photographer (played by actor Kim Rae-won of
Plum Blossom
and
My Little Bride
) moves into the apartment below their home. He tries to win over Min-ah's friendship, first by stealing her lighter and later by calling her incessantly on her new phone. Min-ah is quite put off by all this, and has no intention of becoming friends with him, although her mother seems to be encouraging her...
"With her debut film, young director Lee Eon-hee has created a simple, moving story as well as one of Korean cinema's most vivid mother-daughter relationships ever. Im Su-jung -- virtually everyone's choice for the best new actress of 2003, after her award-winning performance in
A Tale of Two Sisters
-- plays Min-ah with a convincing mixture of reclusiveness and vulnerability...
"Directed with confidence and a clear-eyed perspective, ...ing is an overlooked film that manages to be both very sad and enjoyable to watch at the same time."
2.
Two people reading letters to each other: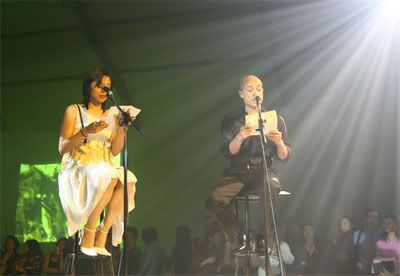 "I stopped celebrating Valentine's Day a few years ago -- not, as some might surmise, because I'm a cheap bastard, but because it seems nicer to give thoughtful gifts and go on romantic nights out just any day, regardless of the calendar, because being in love is occasion enough. Still, I can't help being affected by this Love Month jazz, because as a writer, many of my gigs are season-appropriate.
"Last January 30, Nokia launched its very pretty line of fashion phones, the L'amour Collection ...I was asked to write a small play of sorts about love, which would be performed by fashion icon Inno Sotto and two actors during the launch. We fleshed out the notion of a couple reading love letters to each other, much like the play
Love Letters
by A.R. Gurney. Inno Sotto had the idea that we should portray the eternal qualities of love -- that regardless of time period or location or gender, we all undergo the same agonies and joys, when it comes to being deeply, helplessly in love."
[from
my column
,
The King of Nothing to Do
, at the Manila Bulletin]
3.
Three poems by
Carol Ann Duffy
:
Miles Away
I want you and you are not here. I pause
in this garden, breathing the colour thought is
before language into still air. Even your name
is a pale ghost and, though I exhale it again
and again, it will not stay with me. Tonight
I make you up, imagine you, your movements clearer
than the words I have you say you said before.
Wherever you are now, inside my head you fix me
with a look, standing here whilst cool late light
dissolves into the earth. I have got your mouth wrong,
but still it smiles. I hold you closer, miles away,
inventing love, until the calls of nightjars
interrupt and turn what was to come, was certain,
into memory. The stars are filming us for no one.
Words, Wide Night
Somewhere on the other side of this wide night
and the distance between us, I am thinking of you.
The room is turning slowly away from the moon.
This is pleasurable. Or shall I cross that out and say
it is sad? In one of the tenses I singing
an impossible song of desire that you cannot hear.
La lala la. See? I close my eyes and imagine
the dark hills I would have to cross
to reach you. For I am in love with you and this
is what it is like, or what it is like in words.
Valentine
Not a red rose or a satin heart.
I give you an onion.
It is a moon wrapped in brown paper.
It promises light
like the careful undressing of love.
Here.
It will blind you with tears
like a lover.
It will make your reflection
a wobbling photo of grief.
I am trying to be truthful.
Not a cute card or a kissogram.
I give you an onion.
Its fierce kiss will stay on your lips,
possessive and faithful
as we are,
for as long as we are.
Take it.
Its platinum loops shrink to a wedding-ring,
if you like.
Lethal.
Its scent will cling to your fingers,
cling to your knife.
4.
Zero advice from Fran Lebowitz:
DAVID: This interview is actually going to be published in February, so in the spirit of Valentine's day do you have any advice for the lovelorn?FRAN:
There's no such thing as advice to the lovelorn. If they took advice, they wouldn't be lovelorn. You see, advice and lovelorn don't go together. Because advice makes love sound like some sort of cognitive activity, but we know that it isn't. We all know that it's some sort of horrible chemical reaction over which we have absolutely no control. And that's why advice doesn't work.
DAVID: Being in love is a chemical activity?FRAN:
In love, love
lorn
, anything having to do with romantic love, has nothing to do with the ostensible ability to think.
[from
Index magazine
]