So it's been raining nonstop here since yesterday, and I'm thinking, screw work. If floodwaters are rising outside my very doorstep, it's probably a lot worse over in farflung Padre Faura, and I'd rather not risk getting drowned, or stranded, or eaten alive by other stranded people driven to cannibalism by hunger and desperation. Admittedly, the last scenario is somewhat fanciful, given that I work near several decent Italian restaurants. But you just know that when the calzones are gone and all the carbonara is used up, my fellow strandees are going to look at me and think, hmm, that's enough meat to sustain us for a good number of days... So I'm staying home, and working on an overdue freelance writing gig -- a gig which, by the way, I would have finished last night, if the power hadn't gone out.
Strange to think that blackouts used to be such a regular thing in our lives. When I was a child, we always used to have a stash of board games and candles ready, but we didn't even have to use the candles much: when the power went out, my father would hook up a flourescent light to a car battery and give us decent illumination for however long the darkness lasted. Last night, I was alone and sitting in the sala when everything went black. Immediately I remembered every Japanese horror movie I had ever seen, and sat there quietly going insane for a few minutes before stumbling around and somehow finding a box of matches. Every time I lit one, though, the howling wind would blow it out, as if I were starring in some black comedy routine that would eventually end in my evisceration. Even when I managed to get a candle lit, it didn't help so much -- I imagined crouching, skin-flayed fiends in every corner a shadow danced. Yay.

And speaking of music, which I wasn't, Yvette and I bought a bunch of music DVDs recently -- a live performance by the Pixies from last year, a couple of Joni Mitchell docus, and Tears for Fears'
Scenes from the Big Chair
, all great stuff. Also, a collection of Sonic Youth videos and a set of performances from The Old Grey Whistle Test, but I haven't gotten around to those yet.
More than ten years after they broke up, the re-formed Pixies are still amazing -- all visibly older, of course (except for Joey Santiago -- yay ageless Asian genes), but still able to floor an audience with a tight, heartfelt performance. Kim Deal looks so cute and happy. Frank Black looks so fat and sweaty. All together, they, undeniably,
rock
. I wanna grow up to be, be a debaser! (Debaser).
Joni Mitchell rocks too, in a completely different way. She rocks because she's so smart and articulate and brave and artistically uncompromising, and watching her early life unfold on that biographical DVD almost made me want to cry, for all the hardship and tragedy she endured as a young woman. I'll never listen to "Little Green" the same way again.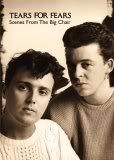 As for Tears for Fears -- the DVD contained a docu from the 80s and a concert from the
Seeds of Love
era, which was late 80s/early 90s, and it was interesting to compare their live performances from the time of
Big Chair
, when they were still years away from breaking up, to the later stuff, when Roland Orzabal and Curt Smith never nod smilingly at each other or even, apparently, make eye contact, through the course of an entire concert. Also, funny how you can watch the whole docu and never quite figure out what Curt Smith contributes to the band -- Roland is obviously the main songwriter, and the more powerful singer -- but as any fan knows, the past decade or so seems to have proven that they're kind of useless without each other. Together, they had a certain chemistry, and watching the docu reminded me how much I like so much of their output. Made me want to listen to my copy of their recent reunion album,
Everybody Loves a Happy Ending
, again -- maybe I missed something.
And now, back to work. Not work work, but my
other
work -- well, you know what I mean.
PS. The new installment of my column,
The King of Nothing To Do,
should be out in today's Manila Bulletin. I know, it's usually Wednesdays, but they're still retooling the 'i' section, I think.
PPS. Happy birthday,
Kitchie!
:)