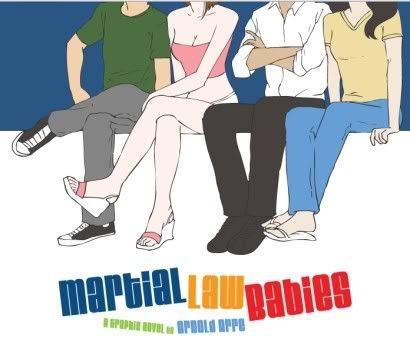 New comics by Arnold Arre are always a cause for celebration.
Martial Law Babies
is certainly no exception; the fact that it should be in stores by next week should have fans of the medium dancing in the streets. There are no superheroes or supernatural creatures in this one, but don't let that deter you. It's a great read, particularly if you grew up in the 80s. Here's a synopsis from the
official site
:
"Allan and his friends are Martial Law Babies: born during the Marcos regime, raised by TV, and shaped by 80s music. Their ambitions may be dampened by third world realities and malcontention but they also proudly belong to a generation of dreamers who fight for their voices to be heard. They are among the so-called "Bagong Lipunan" children, trying their best to live up to their name. But over the years, as Allan watches his friends leave one by one and feels his sense of idealism wane, he starts to wonder where they are all headed."
And here's an excerpt from a review I wrote:
"
Martial Law Babies
is the best novel I've read in a long time."
"Note that I did not modify "novel" with "Philippine" or "graphic" -- though both those words certainly apply. Like the best novels, it has its imperfections; like the best novels, it sprawls a little, and reaches for things that are not easily grasped. And with all of its vivid characters, class issues, pop-cultural archeology, unfiltered outbursts, flights of fancy, and seeming self-indulgence, it is also, like the best novels, deeply satisfying. Reading it makes you realize what conventional Philippine fiction and comics usually leave out."
"And yes, it's partially a nostalgia trip for those of us who grew up in the shadow of Martial Law, those of us who can remember
that
Sting concert or "Uncle Bob's Lucky 7 Club" or even that apple coin bank toy. Do I love it because I'm a MLB myself? Sure, that's one of the reasons: recognition, identification. I have to admit, when I first read it, I wanted to buy a stack of copies then and there, to give to fellow MLBs who I knew would appreciate all the references. But beyond that,
Martial Law Babies
is an honest, compulsively readable account of a group of people growing up in the Philippines, dealing with the good times and bad times and sheer madness. Like you and your friends, it's funny and sad and awkward and astonishing."
Check out the
site
, there's loads of visuals and notes and behind-the-scenes stuff!