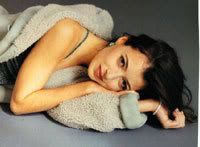 The Seven Best 80s Movie Girlfriends.
Oh, Elisabeth Shue a.k.a. First Karate Kid girlfriend! And oh, Mia Sara a.k.a. Sloane Peterson from
Ferris Bueller's Day Off
! And speaking of
Ferris Bueller's Day Off
: it's one of the few movies that I would -- and
did
-- actually cough up money for, to get on original DVD. Result? The disc won't play on my DVD player ("No Disc," it says). Is there a lesson to be learned here? Probably not.
More 80s funniness from
Cracked.com
:
Eight Important Lessons Learned From 80s Cartoons
and
The 80s Movie Montage hall of Fame
.