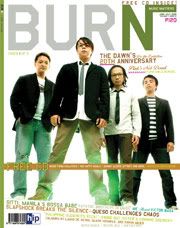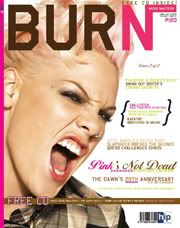 Been sick for a week; came down with a fever and spent a whole night throwing up, which, as all-night activities go, is not one of the funnest. Have also not been online in almost that long; just been resting and reading, mostly. I can keep my food down now, but I still don't quite feel well enough to venture out into the world, which is why I don't have my own copy of
THE NEW ISSUE OF BURN
yet. But YOU -- you HAVE NO EXCUSE! Go out and buy it NOW NOW NOW. As you can see from the pix above (click on 'em to make them grow magically), the second issue of BURN has two covers, one with The Dawn (Happy 20th Anniversary!) and one with Pink.
(Thanks to Denise for the jpegs; since these were early versions that Dave laid out, the actual covers on the stands may look slightly different.)
This issue features Indira Endaya's lengthy interview with The Dawn, a feature on hot young bossa nova singing star Sitti by Yvette Tan (who also writes about industrial band Interlace), Eric Melendez interviewing Slapshock AND Cheese, a Kapatid feature by Denise Mallabo, a Chillitees feature by Cris Ramos, Inky de Dios giving samba percussion lessons, the debut of Sarah Meier's column (and second columns by Quark Henares and Lourd de Veyra), me writing about Bagetsafonik, The Happy Meals, and Swing Out Sister (corresponding with Corinne Drewery was a thrill), and more, more, including of course the
FREE CD
hosted by Zach Lucero, with tracks by the Chillitees, Bagetsafonik, Giniling Festival, Concrete Sam, The Happy Meals, etcetera. Wahoo!