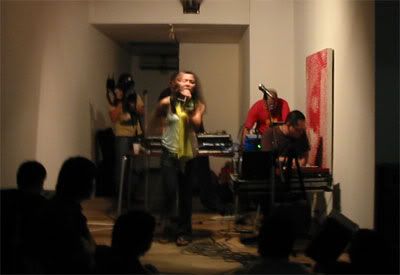 After 2+ weeks of stay-at-home, zonked-out uselessness brought on by a bout of intestinal flu, it feels good to be going out again, slight lingering dizziness be damned! That said, I almost didn't go to the launch of excellent electronica act
Drip
's "Sweet Cheeks" video last Saturday night, tired as I was from elbowing people in the gut and stepping on small wailing children while balancing armfuls of bargain books (I dropped by the National Bookstore Warehouse Sale earlier that day). Boredom and a sense of one's life slipping away unlived won out, however, and Kidlat and I met up at Green Papaya one hour later than the alleged start of the event, but just in time, as it turned out.
Drip performed an all-too-short set of songs: lead singer Beng's smooth, seductive croon was lovely and beguiling as always, Ian and Malek worked their beats-loops-and-keyboards magic, and Caliph8 on turntables was a very welcome not-so-recent addition. I was struck by how much I liked the way they've reworked numbers like "To You" and "Song Number 9" -- the songs are funkier now, more beat-heavy, catchier and more danceable. To be honest, I prefer the new versions to the ones on
Far Side of the World
; maybe someday something like a collection of remixes will be available. As Beng pointed out afterwards, they felt that some changes were necessary if the material was to remain interesting to them. Am quite happy about the direction they seem to be going, musically -- Drip has always been an act worth watching, but there were times when their songs seemed to invite a nodding and somewhat detached admiration rather than real, big-grinned engagement. As for the "Sweet Cheeks" video -- a work of hand-drawn animation -- it was a funny, quirky slice of life on an alien world, complete with killer plants and flying saucers.
Afterwards, we went down the street to our new favorite Italian place (I think it's called Fruili -- I'm not sure). For those of you who are at least a little familiar with Maginhawa Street, it's at a slight angle across that Persian place Ababu, right where Teddi's used to be. Fruili, if that indeed is what it's called, serves really good pizza, and anyone who knows me knows that that is not a statement I make lightly. I recommed the Venezia (sprinkled with ground sirloin) and Margherita (oozing with garlic and cheese).
The days immediately before and immediately after my bout with flu were marked by memorable gigs: last Thursday night, November 24, I caught the second set by
Isha
(a.k.a. Peach) at Mag:Net Katipunan, which was immensely enjoyable -- too bad I missed her first set, and Ace Cada's solo set (friends assured me that
1.
both were great, and that
2.
I am a perennially tardy idiot). I bought a copy of her
Katakataka
EP downstairs right after.
And, last November 5, some friends and I finally managed to catch a gig by
The Bitter Pill
at Ninja Kiss 12 ("Moshi Moshpit Ano Ne?") at Saguijo, and we were utterly blown away by their short sharp songs, their undeniable energy, and the sheer infectious joy with which they played. I missed the incredible Bitter Pill/ Pedicab/ Brass Munkeys lineup last Revolver night due to my illness, but I am definitely looking forward to seeing [Mikey + Diego + Diego + mohawked drummer + cute bassist] play again, and soon.