Been reading through local music news bits. Some random thoughts: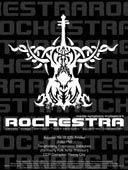 1.
Rockestra
could very well turn out to be an amazing show, or, conceivably, the musical equivalent of the Hindenburg disaster. In either case, it'll be a gig to remember. I, for one, want to be there. Who's with me?
2. Following the departure of hypno-guitarist Jerome Velasco (not to be confused with the
Hypno-Hustler
, from Spectacular Spider-Man #24), The Mongols have
renamed
themselves Pupil. While there are certainly worse names for a band* than "Pupil," I would have to say that "The Mongols" is not one of them.
*For example, Hoobastank. Or
Fulflej
. Or Penis DeMilo. Or
Shitty Shitty Band Band
. No, wait. Shitty Shitty Band Band actually sounds like an act I'd like to see.
3. Am looking forward to the release of Parokya ni Edgar's newest
album
, even if "First Day Funk" makes me want to take a claw hammer to my skull whenever I hear it. After all,
Bigotilyo
was a lot of fun, arguably even brilliant, so maybe the PnE peeps made their deodorant-shilling single irritating on purpose: as a way of making a point, perhaps, as a comment on the whole idea of selling out. Maybe.
On a somewhat related note, thanks, Kristine, for pointing out that a photocopying shop near my house is named "Pakopya ni Edgar". He he.
4. Somebody please explain 'soul siren' Nina's chart
domination
to me. Don't get me wrong, I have nothing against the woman, and I think she's a good performer, and is probably kind to children and kittens and all that. But why does she outsell everyone from fresh-faced pogi rock bands to novelty popsters to a legion of other sirens who also possess a tragic tendency to cover jeepney classic love songs? Am reminded of that scene in the movie "Revenge of the Nerds" where the nerds run a pie-selling booth that enjoys phenomenal sales despite the fact that their product is basically just a mass of whipped cream, because underneath the cream is a photo of a hot topless woman. Not that I'm comparing Nina's music to whipped cream, or implying that lifting her CD from its jewel case tray reveals a picture of her topless. No, it's probably just free LSD tabs tucked into the inlay card.
5. The first time I watched Mojofly's retro new (retro new -- whatta concept)
video
, I had no idea that people actually
did
have drag races in front of the Greenhills Shopping Center back in the 80s; I thought it was some odd James Dean movie tribute. Of course, in those days, I was more concerned with Chrishareth's and Filbar's than flashy clothes and fast cars. (The most embarrasing thing about the previous sentence -- which, by the way, still holds true today -- is that I'm secretly proud that it sort of rhymes).
Funny thing is, I don't think I've ever seen the new Mojofly live, but Adam and I did get to watch vocalist Lougee Basabas two years ago at Mayric's, when she was performing with her old band Superlooge. If I remember correctly, our assessment of her then was: not quite there yet, but not bad. Also, cute.
And now, time to sleep.